Description
Simpler Trading – Raghee Horner's – Full Indicator Bundle
Price: $497
Sale:  $79
Get Simpler Trading – Raghee Horner's – Full Indicator Bundle on sellercourse.com
Raghee Horner's
Workspace Bundle
Use the same indicators that Raghee used to make $26k on Crude Oil with 1 Contract
Receive your offer below:
What's Included:
The VWAP Max Tool
$397 Value
VScore Indicator
$197 Value
VProfile Indicator
$197 Value
ST_Propulsion Indicator
$197 Value
GRaB & Wave Premium
$297 Value
Lifetime Updates and Live Tech Support
Priceless
BONUS: Indicator Setup with Eric Purdy
Priceless
Raghee Horner's
Full Indicator Bundle
$497 
$1,779
CLAIM THIS OFFER
Raghee Horner's Indicator Workspace Bundle
The VWAP Max Tool + VScore Indicator + VScore Bands +
VProfile Indicator + ST_Darvas Box + ST_Propulsion Indicator + GRaB Candles & 34 EMA
These tools successfully predicted CL Futures for a gain of $26,000 with 1 contract
and many others like this $4,000 gain on Gold Futures per Contract
and consistent Monthly Gains such as this:
This is a one time only offer for Raghee's Full Indicator Workspace. As you see above, this is one of many setups you could've caught with these tried and tested tools.
Raghee has used her same base indicators over her 20+ years of trading and has continually tweaked and updated them to create her FULL Indicator Workspace Bundle that she uses daily to pinpoint gains such as this.
It's designed to reveal high probability explosive setups in up or down markets.
More About These Powerful Indicators
The core of the VWAP Max indicator is the display of the volume weighted average price. The VWAP is designed to show at a glance the average price level of participants involved in the market selling. Heavier volume at certain price points drags the VWAP closer to that price whereas, light volume trading has far less "pull."
Additionally, the VWAP Max indicator displays an envelope around the VWAP, which represents the theoretical maximum permissible deviation away from the VWAP. Available for ThinkorSwim and TradeStation.
The VScore Indicator is a non-lagging oscillator that alerts us to when the markets have gone too far out on a limb, where the big money flows will and won't play. VScore shows where there is support and resistance that market doesn't know is there, while allowing us to see submarket trends.
VScore is the most powerful secret weapon oscillator of big money flow. VScore simplifies the three levels the big guys watch and it works for intra day and end-of-day.
VScore Bands complement the VScore by projecting the VScore levels onto price. The VScore bands address a common question and request to be able to see where the VScore would plot on the price chart to clearly show where the support and resistance will be.
Like all the VWAP Max Trio tools, there are two versions: One for end of day and one for intraday. They are anchored in the same way as the VScore is, in other words, using the same date for end of day VScore and same time for intraday VScore.
Volume Profile can be complicated AND to add to that, the Wall Street Machine uses multiple levels of volume profile. The charts can look confusing and noisy.
However, the best and most powerful aspects of volume profile is the Point of Control, Value Area High, and Value Area Low…which are all easily identified with a single horizontal line each and is included in VProfile.
ST_Darvas Box is used for intraday and swing trading. When conditions are met, a box is formed around the corresponding price action.
ST_Propulsion Indicator is a simpler way to visualize trend strength and gives entry signals and stop levels based on their relationship to current price.
GRaB & Wave Premium provides clarity into trends and momentum. This is Raghee's secret weapon for being on the right side of the biggest trends of the year.
PLUS get these 2 additional bonuses!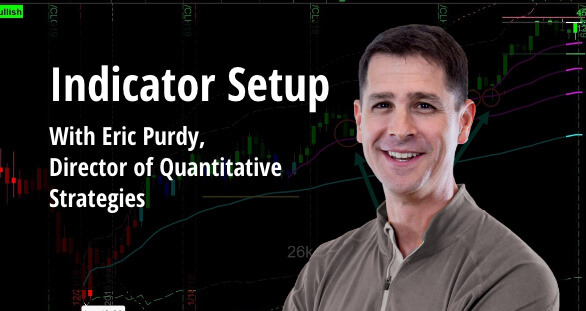 Getting your new Indicator Package setup and ready to go is quick and easy when you get to set it up with the creator of these powerful tools, Eric Purdy. He will walk you through everything step by step in a pre-recorded session.
Simpler Trading's technical support team will always be here to solve your problems through email or over the phone. Once you're a Simpler Trader, you are for life. Any future updates of Raghee's Indicator Bundle will be provided for free for life with this package.
With Raghee's bundle you can stay in trades while others exit early and leave profits on the table
Here is what fellow Simpler Trading community
members said about Raghee Horner:
"[up] around 65% this month"
-Ralph
Raghee's exposure to the markets began in a rather unconventional way. Raghee attributes her start to her mom who required her to invest 25% of her earnings while working part-time in high school.
Raghee Horner, is our resident forex expert here at Simpler Trading, with several books published on the topic. Her exposure to the markets began in a rather unconventional way — her mom required her to invest 25% of her earnings while working part-time in high school.
To her surprise, her mom's condition laid the foundation for Raghee to understand the amazing tactile aspect of charting. That's when she began to see the way price and behavior lined up, and it opened her eyes to the world of market discounts, news, and fundamentals.
Raghee's love for her work and enthusiasm for teaching others shines through when you listen to her in our Simpler Futures Gold Room. Her combination of technical analysis and "big-picture" market psychology can teach you the futures and forex markets from top to bottom. After all, she began charting her mutual fund progress on engineering graph paper at the age of 15.
Of course now she's grateful she doesn't have to chart by hand any longer. Raghee has dedicated the last 30 years of her professional life to understanding and utilizing the markets to turn her into the successful trader she is today.
She believes in removing unsupported biases and emotions to avoid clouded judgment. In order to follow this, Raghee utilizes fundamentals, technicals, and price action to deploy an objective, systematized strategy. She prefers longer-term trades that last several days or 1-3 weeks, averaging between 30-70% ROI. With Raghee's trading style, you receive trade setups between 8-24 hours in advance of the trigger, allowing clients, who don't want to sit at the computer all day, an excellent opportunity to enter swing trades. Her motto is, "The simpler I keep things, the better I play!"
Raghee's P&L for 2020: 75.25% Win Rate
Frequently Asked Questions
Simpler Trading – Raghee Horner's – Full Indicator Bundle Download, Raghee Horner's – Full Indicator Bundle Download, Raghee Horner's – Full Indicator Bundle Groupbuy, Raghee Horner's – Full Indicator Bundle Free, Raghee Horner's – Full Indicator Bundle Torrent, Raghee Horner's – Full Indicator Bundle Course Download, Simpler Trading – Raghee Horner's – Full Indicator Bundle Review, Raghee Horner's – Full Indicator Bundle Review