Description
Rick Van Ness – Finance Your Dreams
Price: $79
Sale:  $39
Get Rick Van Ness – Finance Your Dreams on sellercourse.com
The purpose of this course is to help make dreams come true. Planning is extremely effective, because we usually hit what we aim for. Yet most people get hung up and skip this powerful tool. Most dreams require money. Yet, investing is complex, confusing, intimidating and scary.
I will teach you the essentials you need to know about saving and investing. You will conquer any feelings of being overwhelmed or intimidated. When you complete the course, you will sleep better having your own personal plan for getting to the financial goals that will enable your big dreams. Regular checkpoints will help you confirm whether you are on track.
Learn basic financial concepts to make it more likely that you'll achieve common life goals such as owning a home, providing for yourself or your family, taking fun vacations, and retiring in comfort. You will learn:
How to write a personal investment plan
Simple rules for successful investing
Whether to invest in stocks or bonds
How to diversify your investments
How to recognize a good mutual fund
How to be a tax-savvy investor
Frustrated by your investments? Not sure how to get your saving and investing on track? Tired of not having confidence in what you are doing?
Take this five week course with Rick Van Ness, and create your own personalized map for getting your saving and investing where you want it to be.
The course fee gives you lifetime access to the final version, and get all future updates. You will be notified of any new content by email.
The course materials is mostly lectures (short videos) with some occasional exercises to help you consider your own needs. The material will be released weekly—so you won't be drinking from a firehose. You should plan to spend about 1 or 2 hours a week for five weeks. The course should be a short-cut to an outcome, and your feedback will help me improve it.
My guess is that you've got some investments but chose them without a lot of thought. They may seem to be working for you but you really don't know whether they are good and what you should be doing.
You've tried some books, some internet forums, and a few TV shows but it all seems like wild speculation. You wish there were simple answers founded in wisdom from some of the world's best and brightest. (Hint: there are.)
And, at this point, you are living with your investments and your dreams seem to be on hold – or risk being downgraded. You're not feeling very good with it.
Understanding Investing Is Within Your Reach
I've put together a 10 module, 5 week course that is going to give you a starting point to achieve the important financial goals in your life.
I hear so many times from people wondering what stock to buy or whether to get in or out of the market. Their very questions reveal that they are clueless about something so consequential. Only a rare few of us don't need to save and invest in order to achieve many of our dreams – often the biggest of which is retiring comfortably. These lessons are essentials that everyone should be taught in high school, or college, or at their family table – but they aren't. This course fixes that.
Experience Online Learning at its Best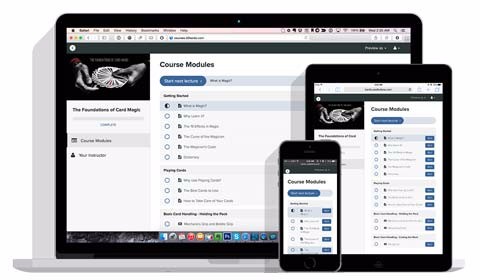 This Finance Your Dreams course is available instantly on all of your devices. Stream the videos, or download them to your computer.
Don't let your dreams slip away because you failed to make a simple plan. You can do this!
Here's a little known secret that will motivate you. In the long run, the typical investment fund does not achieve the market benchmark, and the average investors' returns are even lower than that because of those oh-so-tempting behavioral mistakes.This course will help you write a plan, capture the returns your investments actually earn, and put you on a path where you're likely to succeed.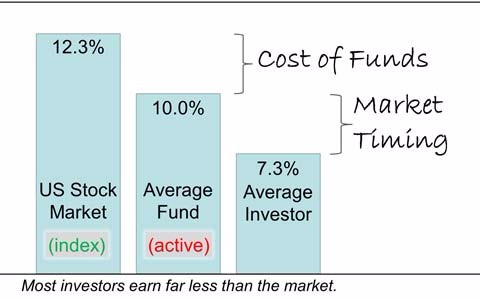 The course teaches the wisdom of John C. Bogle and other legendary industry leaders. When he published The Little Book of Common Sense Investing in 2007 the average investor was earning about 5% less than their investments—and probably without knowing this! A lot of people were happy with a 7.3% return when they could have been earning about 12%. But while their money was doubling every nine years, it could have been doubling every six years! This is huge!
This course will save you money by showing you everywhere it is leaking away from you. For instance, the difference between a mutual fund fee of 0.15% and 1.5% might not seem like much, but the effect of the compounding over an investing lifetime is enormous. After 30 years, a fund with a 1.5% cost will provide an investor with several hundred thousand dollars less for retirement than a 0.15% index fund with the same growth. The chart below from the Bogleheads shows how you can finance an extra ten years in retirement, not by taking more investment risk but just by watching costs and investing smart.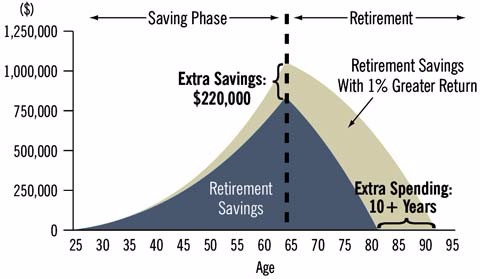 Reasons to choosing this course:
You might want this course is because you don't know what to believe; don't know what order to do things. You want someone to provide an organized step-by-step way.
Save time with this course. We strive to be succinct, concise.
It's fun to meet and talk to like-minded people—people on the same journey —people you have things in common with. This is hard stuff. The course provides a safe space to talk—as well as to celebrate.
Choose the course for access to me. People like the way I use graphics and short videos—to not just tell you, but to show you. I'm also happy to give you feedback if you wish. I have no self-interest, I don't sell you anything other than education.
And finally, join if you know yourself—and know that unless you make some kind of commitment you won't be motivated to follow-through.
This course is NOT for people who:
Want a quick win in the stock market.
It's not a replacement for saving, but it is a way to show you why you might want to, and to help prevent you from investing wastefully.
Are not able or willing to practice the 'action item's presented with each module
Have an old slow internet connection . (You're fine if you can view the Video Promo at the top of this page.)
Incapable of overcoming a debt problem (although, let me know if I should make a different course to help you)
Prefer a flamboyant crowd-raising speaker to time-proven wisdom delivered in a calm voice of reason.
Need situation-specific personal advice. I'm an educator, not a financial advisor. But if you do need to hire help, I guarantee that educating yourself with this course will help you clarify what kind of person you need and give you the skills to identify a good one.
Rick Van Ness – Finance Your Dreams Download, Finance Your Dreams Download, Finance Your Dreams Groupbuy, Finance Your Dreams Free, Finance Your Dreams Torrent, Finance Your Dreams Course Download,Rick Van Ness – Finance Your Dreams Review, Finance Your Dreams Review