Description
Frank Kern – Evergreen Email Machine
Sales Page: https://go.frankkern.com/block-copy-sales-page1655482295925
Get Frank Kern – Evergreen Email Machine on sellercourse.com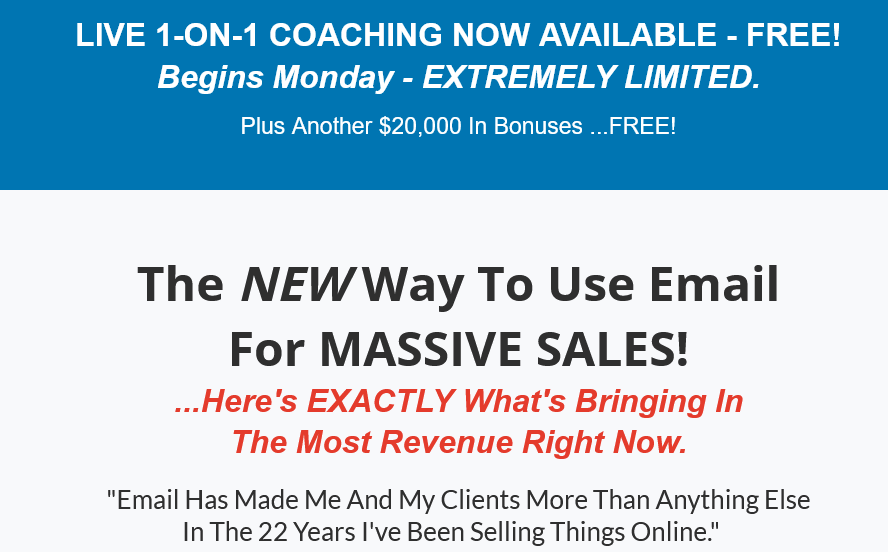 What We're Doing
We're BUILDING AN EMAIL LIST using your choice of ten different list-building strategies.
We're building a system to MAKE AS MANY SALES AS POSSIBLE within 7 days of someone joining your list.
We're crafting "CASH ON DEMAND" emails that can be used as "spur of the moment" broadcasts for same-day-sales.
​We're building an automated email machine designed to send the right emails to your list at the right time …and bring in sales automatically.
You will get TWENTY different "cut-paste-tweak" email campaigns so you can start sending good emails IMMEDIATELY.
EXTREMELY COOL BONUS
In addition to the complete Evergreen Email Machine training, the frameworks, the templates, and the TWENTY cut-paste-n-tweak email campaigns, you're also getting my …
$5,000.00 Social Media Template Bundle
OK – so one of the things I'm going to show you how to do is to use simple Social Media posts to build a list consistently.
It's awesome. The more you post, the more leads you can get.
But one of the things that always slowed me down was the GRAPHICS.
I mean …how many selfies can we take, you know?
So I Paid A Designer $5,000.00 To Make A Bunch Of Super Easy TEMPLATES I Could Use Fast.
I had hundreds of them made, too.
And I had two versions – one set of templates that you can use with Canva (super easy free online tool).
…And one you can use with Photoshop (which …honestly …I've never messed with because the Canva ones are so easy.)
Now YOU Can Have My Same Templates
That WORK …So You Can Make Awesome Social Posts In Minutes.
And I'll do you one better …I've even created a "Swipe File" of my best performing posts and turned THOSE into templates so if you want, you can literally just model the look and feel of what worked for me.
One Post Got 187 Customers In One Day.
And naturally, I turned it into a template …for myself …so I could use it at a moment's notice and not have to overthink anything.
Another One Got 538 Email Subscribers In Less Than 24 Hours
You guessed it.
Turned it into a template.
Get Frank Kern – Evergreen Email Machine on sellercourse.com