Description

Easyflexibility – Adductors Strength & Flexibility All Levels
Price: $29.95
Just pay: $10
Get Easyflexibility – Adductors Strength & Flexibility All Levels on sellercourse.com
Ready to get started? Thousands of people worldwide have achieved the same results you're dreaming about and you can too!
"Adductor Stretch is an excellent stretch program. It is completely different from what I have ever tried. The stretches are explained and demonstrated in an easy to follow way. I feel much looser after each stretching session. Thank you ! " Bob R.
Adductors Flexibility and Strength Training All levels
Adductors are four muscles whose primary role is hip adduction. Adduction is pulling the limb toward the mid-line of the body.
Traditionally these 4 muscles are listed as adductors:
Adductor Brevis,
Adductor Magnus,
Adductor Longus,
Adductor Gracilis.
Additionally some texts list Pectineus as an adductor. There are a number of other muscles that also adduct the leg. Most of those muscles are external rotators of the hip. Since most applications of abduction have a superimposed lateral rotation, additional adductors do not restrict abduction or horizontal abduction. The exception are medial hamstrings, which are internal rotators of the hip.
Exercises such as straddle and butterfly are common adductors stretching techniques. These exercise are helpful yoga postures. However they target many muscles at the same time. (A straddle targets at least 7, depending on how fibers are counted.) This presents a problem, when trying to develop flexibility fast. Anyone of those muscles can prevent a full stretch.

Zaichik stretching approach is different.
Each muscle is targeted individually. At the same time using an "action vs action " approach, the stretch reflex is avoided.
Avoiding the stretch reflex allows to eliminate the pain of stretching.
Moreover Zaichik stretching allows the practitioner to pinpoint the problem. In other words, if only one muscle is tight out of the group, all the athlete has to do, is focus on that muscle and release it.
Many people found Zaichik stretching to do the trick for them. Allowing them to break through the wall, where traditional stretches have stopped working.
And lastly strength exercises are also included in this program
Those allow the muscles to get used to new range. This prevents injuries and helps to propagate flexibility a lot quicker.
Let us show you how you can dramatically improve your Adductors,
steadily, safely, painlessly and quickly with the use of the ZST.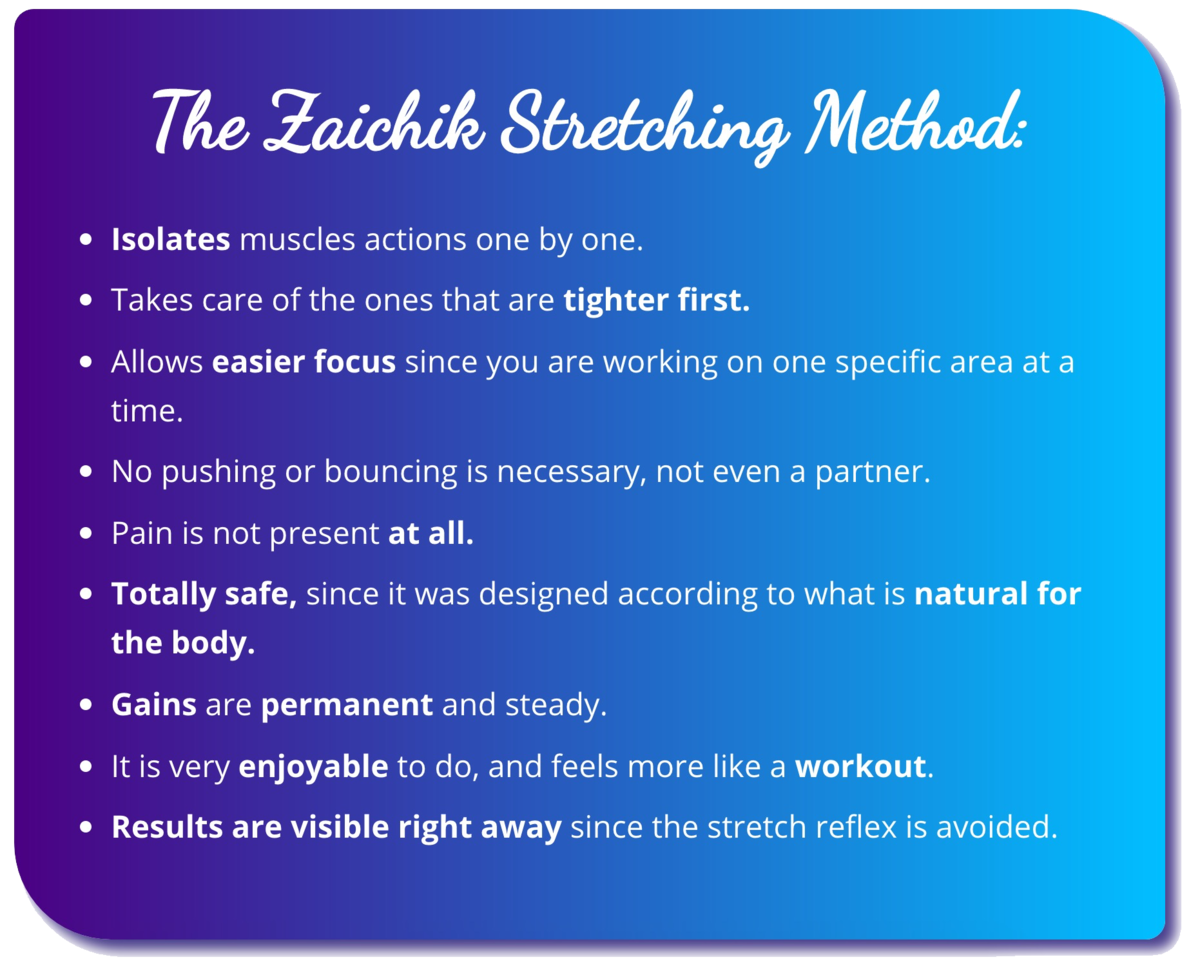 You can start right now! This program is online! -You can watch from any device. – Get support from our private group of students. – Lifetime access. Here's what you'll get: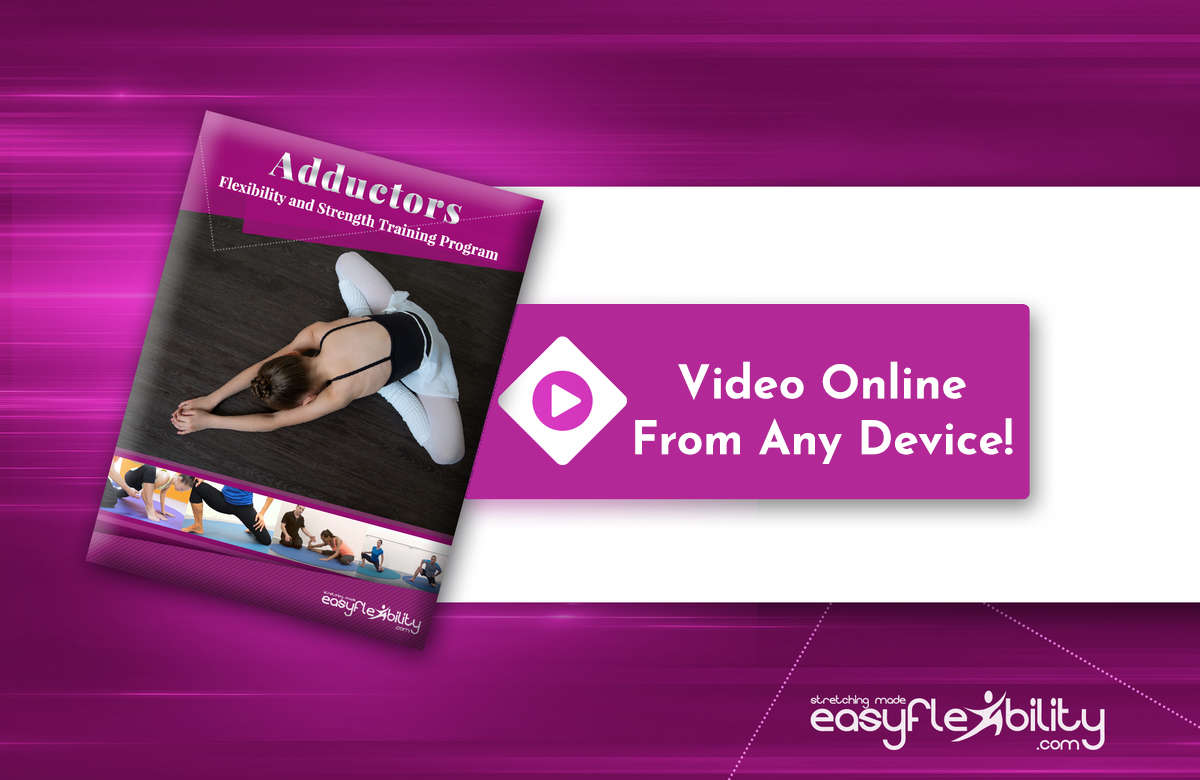 A online video containing the follow along routine plus explanations before each exercise.
The routine contains joint mobility warm-up, conditioning exercises to prepare your muscles , Zaichik Stretching Techniques for each single muscle involved, strength and supporting exercises and a cool down section.
LifeTime Online for you: – You can watch from any device.
– Get support from our private group of students.
– Lifetime access.
Specific adductors Warm-Up & Conditioning Techniques
The routine begins with mobility exercises, followed by specific warmup and conditioning techniques that will prepare your body for the special stretching techniques that follow. Not only that, these exercises will also make your newly gained flexibility permanent, they will speed up flexibility gains as well as make you strong and in control of your body. You'll feel lighter than ever!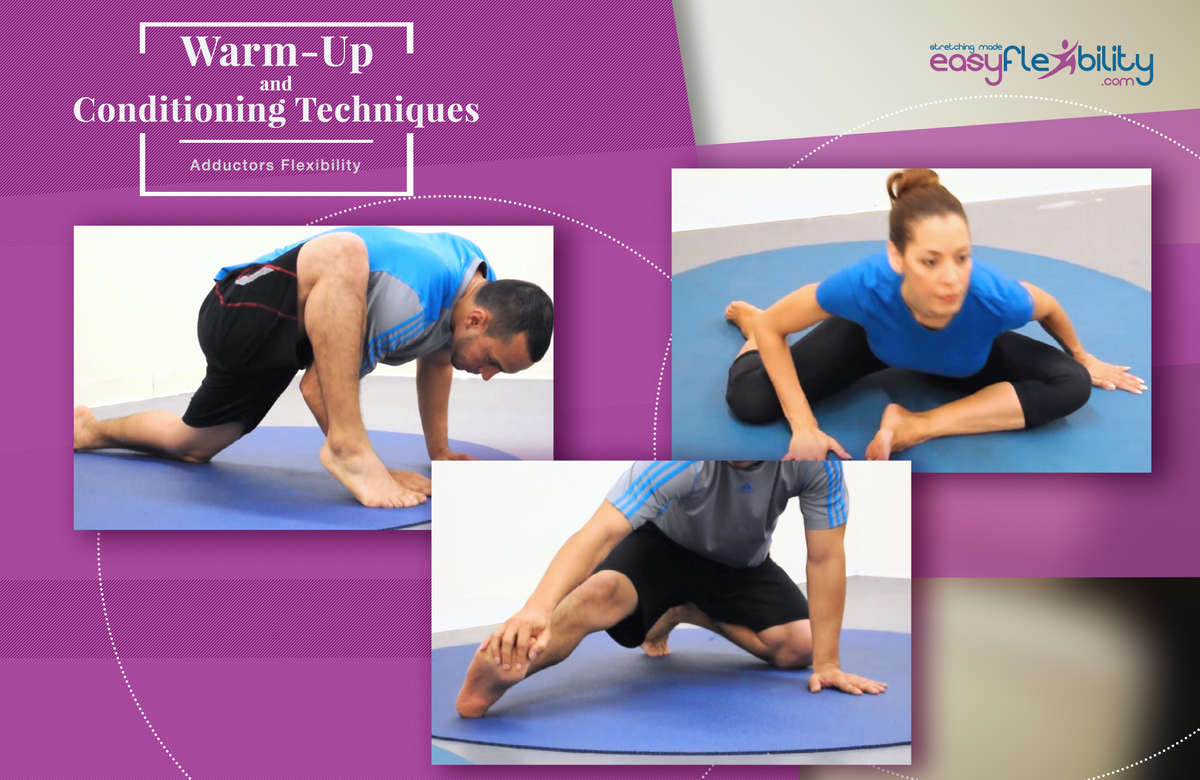 Unique Zaichik Stretching Techniques
Thanks to the Target & Leverage mechanism (unique to the ZST approach), these techniques are the most natural way to stretch. Since the stretch reflex is avoided, pain is not present, and results are visible right away.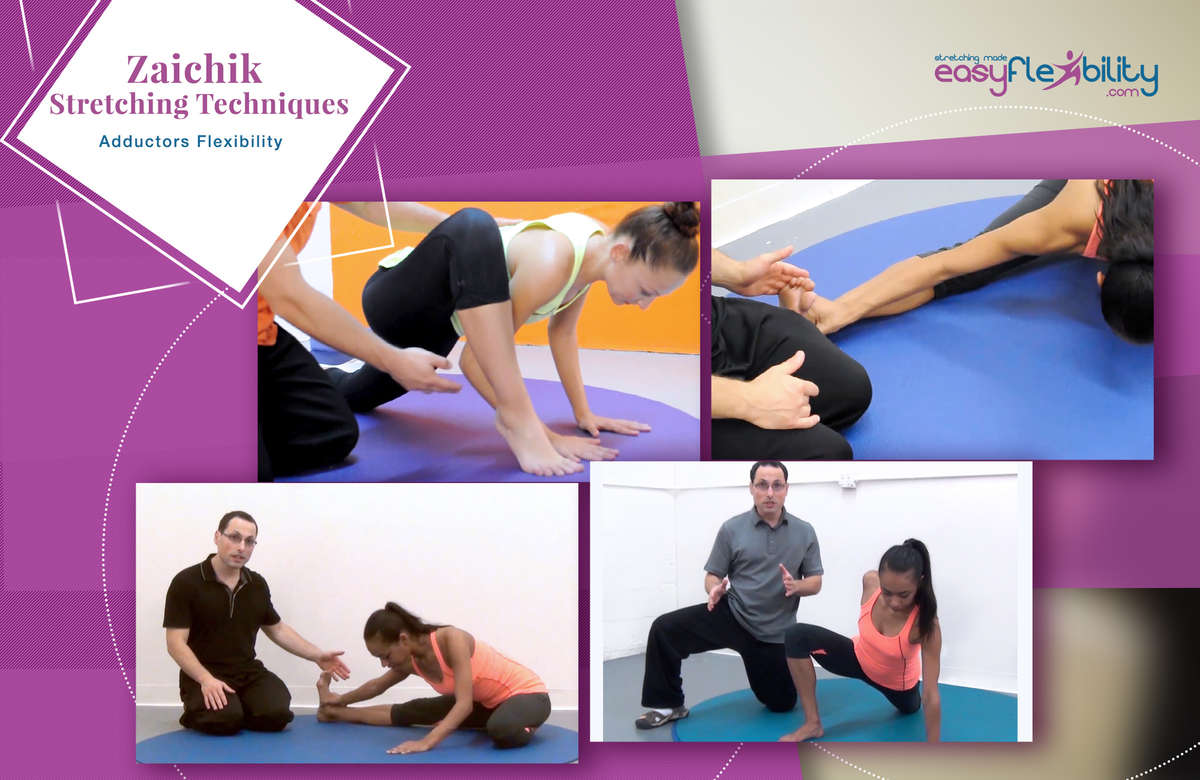 Which Package is Best for YOU?
Easyflexibility – Adductors Strength & Flexibility All Levels Download, Adductors Strength & Flexibility All Levels Download, Adductors Strength & Flexibility All Levels Groupbuy, Adductors Strength & Flexibility All Levels Free, Adductors Strength & Flexibility All Levels Torrent, Adductors Strength & Flexibility All Levels Course Download, Easyflexibility – Adductors Strength & Flexibility All Levels Review, Adductors Strength & Flexibility All Levels Review